It's almost 38 years since John Webster was inducted as the Minister of the Bendigo Presbyterian Church, and yet the news of his illness and subsequent death on 14th December 2022 were received with a sincere measure of sorrow by current members who remember him fondly.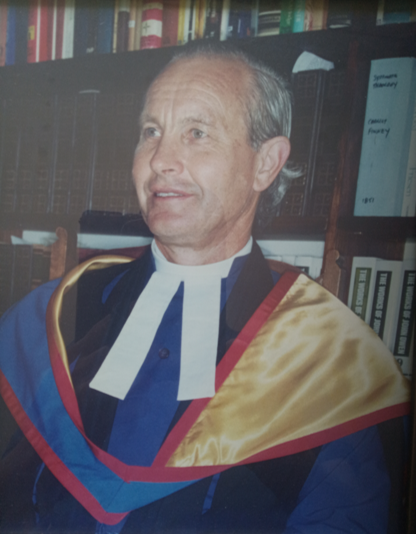 John began his ministry in Bendigo in 1985 when the Charge consisted of two congregations, Eaglehawk and St John's, at a critical time in the Church's history. Just a few years earlier, the St John's congregation had voted to join the Uniting Church and the Property Commission left the remaining Presbyterians with only the Eaglehawk Church to meet in – which was, sadly, almost on the point of being condemned.
However, following on from the pastoral ministries of the Rev John Aitken, and then the Rev Colin Harrison, the 'continuing Presbyterians' found themselves in a good space, when they called John (Webster) to come and build on what had been begun. And 'build' is just what John did, and he did it as 'God's man' for the hour. Faced with congregations who had been used to a more 'liberal' flavoured theology rather than Reformed or evangelical, John's ministry was exercised in the context of a certain measure of opposition and criticism from some quarters. But this did not deter John nor the eventual growth of the congregations. His faithful and strong preaching, his firm commitment to the Church's theological standards and his Presbyterian convictions shone through over the 10 years in which he served both congregations, resulting in significant growth in the Charge – especially in the St John's Bendigo congregation, paving the way for it to become a full charge in its own right, something that John had been working towards and planning for, soon after John accepted a call to Hamilton (NSW). He could not have foreseen the fruit of his ministry in this city where now three Presbyterian congregations are flourishing under the teaching of God's Word and days of opposition from within the church have long passed. Truly we are reaping where he has sowed.

John will be remembered for his love for and his labour in the Lord Jesus Christ, whom he served faithfully and in the spirit of 1 Corinthians 15:58, 'Therefore, my beloved brothers, be steadfast, immovable, always abounding in the work of the Lord, knowing that in the Lord your labor is not in vain.'
Rev Philip Burns