St John's has two memorial windows dedicated to the Rats of Tobruk and the Royal Australian Navy.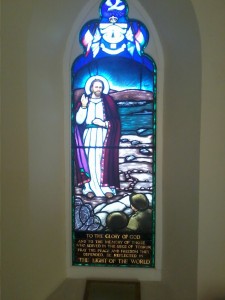 The inscription underneath the Rats of Tobruk window reads:
THE RATS OF TOBRUK ASSOCIATION
NO SURRENDER
TO THE GLORY OF GOD AND TO THE MEMORY OF THOSE WHO SERVED IN THE SIEGE OF TOBRUK
PRAY THE PEACE AND FREEDOM THEY DEFENDED, BE REFLECTED IN THE LIGHT OF THE WORLD.
"THE RATS OF TOBRUK" WAS A NAME GIVEN TO THE DEFENDERS IN THE HISTORIC SIEGE OF TOBRUK. THE SIEGE LASTED FOR EIGHT MONTHS (FROM APRIL 1941 TO DECEMBER 1941). THE LONGEST IN BRITISH HISTORY.
AGAINST GREAT HARDSHIP AND SACRIFICE, AND SUPPLIED ONLY BY SEA, THIS EPIC WAS HAILED BY MANY AS THE TURNING POINT IN THE FIGHT FOR PEACE AND FREEDOM IN WORLD WAR 2.
Dedicated by the Rev. John E Webster B. A., L. Th. on 12th April 1987.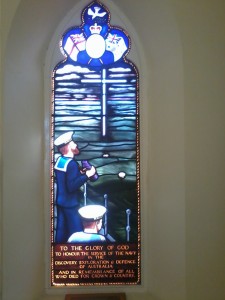 The inscription underneath the Royal Australian Navy window reads;
This window placed by the members and friends of the Ex-Navalmens Club of Bendigo and District was dedicated on 25th October 1987 by Rev. J. E. Webster B.A. B. Th.
Royal Navy 1770
Royal Australian Navy 1911
"O Thou Who rulest the waves of the Sea,
And hast ordained it to be a highway for the Nations,
Preserve in Thy Gracious Keeping
All those who journey thereon."