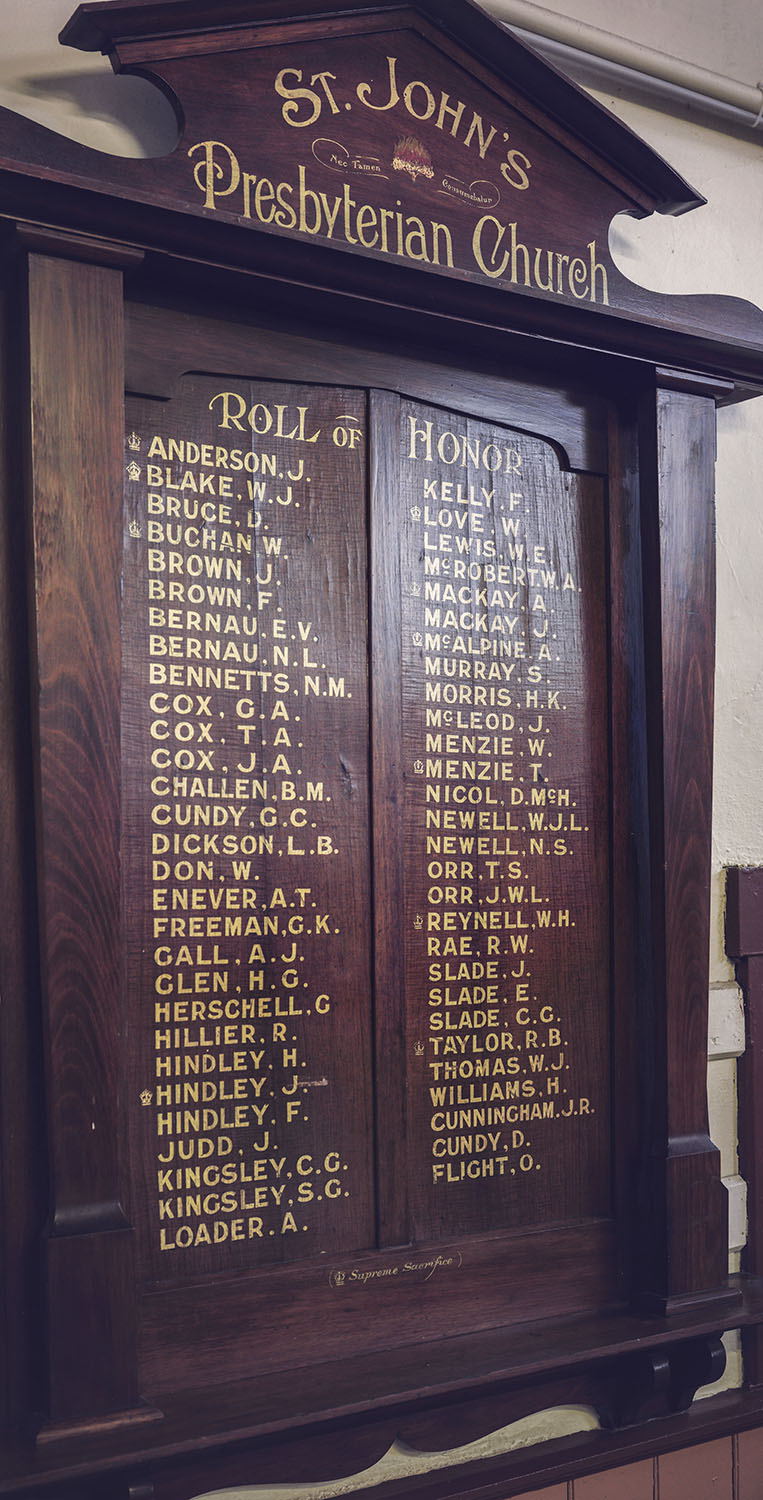 Time for a true story! Read on…!
When two of our church members were busy cleaning inside the church around mid winter 2014, a man with a camera entered and asked if he could photograph our WWI Honour Roll. The reply that was given went something like this, 'Sorry, but we have no WWI Honour Roll. There's another church down the street, maybe you could try them?'. The man left, but re-appeared not long after with this message… 'Guess what? That church down the street has your Honour Roll!'
The photograph on this page (taken in the Hall of the Forest Street Uniting Church*,  just down the street) confirms this fact…. and now, we are glad to put it up on our website for you (and for us) to see!  We know this is not earth shattering news by any means, but was a a significant development in the Centenary year (2015) of the Gallipoli landings.
Though we are not in possession of this Honour Roll, nevertheless we are thankful to God for the 57 men from St John's who left to serve 'God, King and Country'…. 10 of whom paid the ultimate sacrifice.
Of those 10, the first name that appears on our roll is David John Anderson, known as John, aged 18 years and 2 months at the time of enlistment in Bendigo on September 10th, 1914. Born in Bendigo, the son of Chemist (David Anderson) and himself a 'Chemist's Assistant', and listed as 'Presbyterian', John served as a Sergeant in the 8th Battalion and was killed in action on June 16th, 1915 at Gallipoli. He is buried at the Shrapnel Gully (or Valley) Cemetery in Gallipoli.
Some, however, lived to return to Australia after the War. One such soldier was Claude George Kingsley of Barnard Street, Bendigo who enlisted on August 18th, 1914, aged 19 years and 8 months. Claude was wounded by a bullet in his left hand the day after the Galliopli landings, but continued his service despite receiving more injuries during his tour of duty, finally returning, medically unfit, to Australia on November 20th, 1918. Concerning Gallipoli, Claude wrote in a diary entry, ' I was only there for 48 hours, but I saw enough to last me 100 years. You can never thank the lads enough, and no-one can describe what being under fire is like. It is too awful'.
Another such soldier was Francis Grant Hindley, (pictured left) known as Frank, from Mitchell Street, Bendigo who enlisted on August 18th, 1914, aged 19 years and 6 months. After having fought with the 7th Battalion and being wounded on July 6th, 1915, Frank fought in a variety of battalions for an extended period before returning to Australia, medically unfit, on April 5th, 1918.
*You may be wondering why the St John's WWI Honour Roll ended up in the Forest Street Uniting Church Hall. The answer goes back to the Union of the Methodist and Congregational Churches with some Presbyterian Churches throughout Victoria in June 1977. As you'll see on on our history page, at the time, the St John's congregation voted to be a part of the Uniting Church, and thus our Honour Roll ended up down the road.
(With thanks to the Forest Street Uniting Church for permission to enter and take a photo and also to Cameron Spink for the photo!)