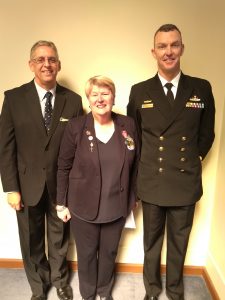 We held our Annual Naval Service at St John's today (Trafalgar Day) with Captain Mike Oborn, Commanding Officer of HMAS Cerberus as our guest and guest preacher. (You can hear his message here!)
We are so grateful to Mike for generously giving up his time to make this return visit to St John's, having preached at our Naval Services in 2013 and then again in 2014. Thank you Mike and may God bless you in your important leadership role in the RAN.
Pictured above (L-R) are Rev Philip Burns, Christine Clifford (Acting President of the Bendigo Ex-Navalmen's Club) and Captain Mike Oborn.