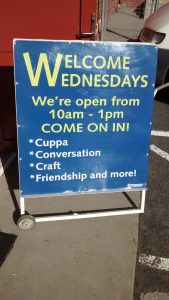 We are grateful to the Bendigo Weekly for their willingness to follow up our story on Welcome Wednesdays in their paper last Friday (if you missed it, you can see it here on their website).
Since then we've had this A-frame redone (see left) thanks to a local signwriter, made some changes to the meeting room interior, purchased some new equipment and have sought to get the message out as much as we can.
Thanks for your prayers for this new venture which begins on Wednesday June 13th.