When the rescue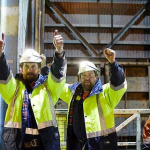 of miners Brant Webb and Todd Russell was unfolding in Beaconsfield, Tasmania, back in May 2006, the whole world held their breath! After having been given up for dead because of the thick rock that kept the men from freedom, in the course of time, they were rescued from their captivity and the watching world sighed with relief! Throughout the whole ordeal and after, tribute was rightly paid to the rescuers who toiled tirelessly to reach the men in extreme circumstances and at great risk to themselves.
The mine rescue story reminds us of another rescue story, an even better one. The Bible tells us that 'all men have sinned' (Romans 3:23) and that because of this we are unable to save ourselves. All of us are 'trapped' in the cage of our own sinful natures and all are in need of a Rescuer. Jesus Christ is that Rescuer. At great cost to Himself and to rescue His people, He died upon a cross and was buried. Then to prove that His work was sufficient and accepted by God, and that He was and is the Son of God, He was raised from the grave after three days.
We all need to be rescued. At Easter we are reminded that only Jesus Christ can do this completely. Through faith in Him, all who believe are granted full and free salvation. He said, 'If the Son sets you free, you will be free indeed'. (John 8:36). Seek Him. Great joy will follow your rescue too.
Join us this Easter! Good Friday 9:30am, Easter Sunday 10:30am. All welcome!