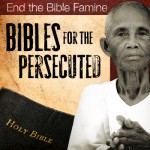 During these first few weeks of April, we have been and are participating in the Bible League's 'Bibles for the Persecuted' program called 'Passport with no boundaries'.
Our members are being asked to pray daily for believers in parts of the world where they are either persecuted or tortured or discriminated against or jailed because they belong to Christ, and also put aside $2 per day for the purchase of Bibles for them. It's a refreshing challenge – particularly when we often think we've got it tough in this land!
You can check out the Bible League's program here and we would encourage you to get your church involved if you haven't already!