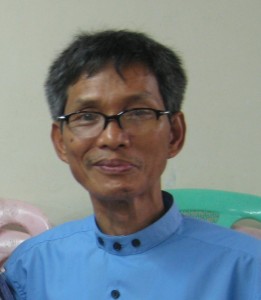 Come and hear one of the leaders of the persecuted church of Myanmar, Rev Dr Thang Bwee,  7:30pm,  Monday May 14th, 2012, St John's Presbyterian Church Hall, Forest Street, Bendigo
Rev Dr Thang Bwee founded the Evangelical Reformed Church of Myanmar (Burma) in 1992. Now with about 35 congregations in Chin State, Rangon and the Irrawaddy delta, the ERC is a partner church of the Presbyterian Church of Australia and Thang Bwee is the Principal of the ERC's Reformed Bible Institute (established in 2000). PCA missionary Martin Eagle (From NSW) serves in Yangon under Thang Bwee's supervision.  He is father of 3, Elisandy, Bowie Benjamin, and Vesta, and is married to Nelly.
This is Thang Bwee's second visit to Australia (having previously visited Bendigo in 2006) to visit Presbyterian churches in many states. This visit is again under the auspices of Mission Partners and has been funded by personal gifts of supporters, however there will be an offering for Mission Partners to help defray the costs of Thang Bwee's visit and also support the Bible Institute of the ERC.
Please bring some supper to share. All are welcome.